Website for REALTORS®
No Setup Fee!
You will receive a

PERSONAL WEBSITE

up and running properly at an affordable price. Your website will create a professional and positive impression among every client that visits your site!
You will receive a

CUSTOM DESIGN

for the website and have the option to change it for free any day that you wish.
You will receive all of the web

FEATURES REALTORS NEED:

Your own listings page;
Each city detailed description;
"Location" search;
Mortgage calculator;
Home valuation;
Leads capture features;
Possibility to add an IDX page from your MLS.
CONNECTING REAL ESTATE AGENTS
The "Location" Search – How Does It Work?
The "Location Search" can be carried out on 12 parameters.
Select the search parameters that are most important to you.
Setup the selected parameter's values.
As a result, you've got a list of cities which are matched with values that you have set.
One can see:
– detailed information about each city;
– real estate data about the city;
– or send a realtor your request for the properties in this city.
Don't want to change your current website? Just add MyRE engine!
Would you like to install it at your current website?
Yes! It's possible.
We'll add our software at your current website with your design and you'll get much more features.
Add own listings, use "Location Search", mortgage calculator. Provide your clients detailed info about any city in your state.
Get more leads with MyRE product!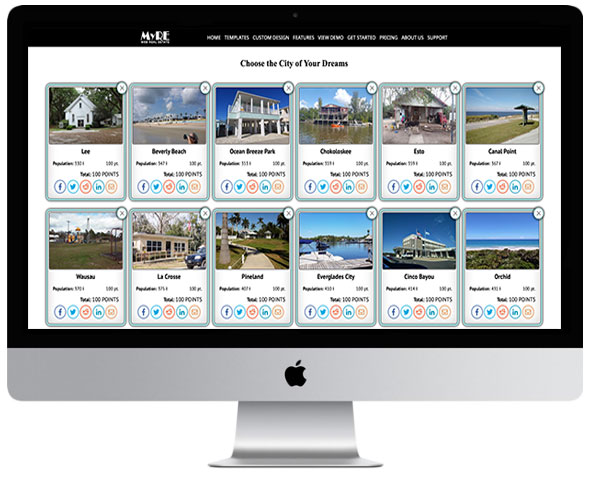 STOP PAYING MORE for websites and tools when everybody else pays LESS!
WHY IT'S SO CHEAP?
We don't have a prestige office in Silicon Valley;
We don't have Board of Directors making millions of dollars in bonuses;
We hire young talented programmers for product development;
We don't charge setup fees since most of our processes have been automated;
We use the newest technologies to minimize staff costs;
We don't have a large staff with a great salary as all Associations have;
We know that American real estate agents love our products – we plan to include all the States, from coast to coast in MyRE Free Listing Service;
And of course, we want to have a price that no one can beat!