Stay Ahead in Real Estate
Quick & Easy: Real Estate Website
Professional website for realtors.
24-hour setup.
No contract required.
All online from start to finish.
For only $19.90/month.
No setup fee.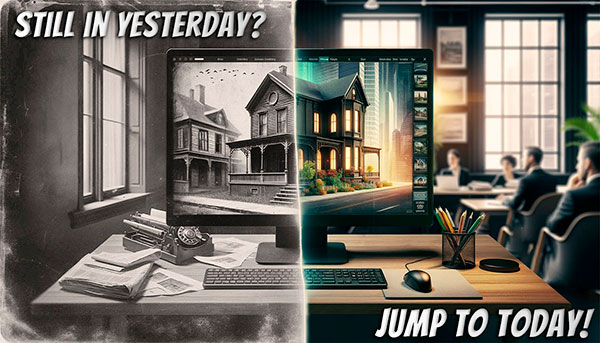 💰 Unbeatable Price: Quality doesn't have to break the bank. For just $19.90/month, you don't just get a website – you invest in a comprehensive toolkit designed to supercharge your real estate business.
📞 Premium Support: Whenever you need help, our dedicated team is just a phone call or click away to ensure your website is always performing at its best.
🛠️ Feature-Rich Platform: Our platform is packed with must-have features tailored for realtors, ensuring a seamless blend of functionality and professionalism for the modern real estate business.
🔒 Secure and Reliable: We understand the importance of your data. Our platform guarantees top-notch security measures to ensure that your client information remains confidential and protected.
♿ ADA Compliant: Ensure inclusivity with our built-in ADA widget that makes property searches accessible to everyone, regardless of physical ability.
📱 Mobile Optimized: With more and more people browsing on the go, our websites are designed to look and work seamlessly across all devices.
🗣 Live Chat Support: Engage your visitors in real-time with the PRO version of our online chat. Answer questions immediately and effectively convert leads.
🛍 Resources for Buyers and Sellers: Empower your clients with valuable insights, from real estate glossaries to handy mortgage calculators.
📈 Boost Your Web Presence: Improve your website's position in search rankings with our innovative SEO toolkit designed to optimize your online presence and increase organic traffic.
📲 Stay Up to Date: Our mobile app ensures you never miss an update and keeps your real estate business right at your fingertips.
📝 Automatic Real Estate Blog: Get your own blog on the website, automatically updated by MyRE with helpful tips for home buyers and sellers.
🌍 Human Touch Translations: Set your preferred website language, backed by translations infused with human authenticity, ensuring cultural integrity in every word.

Call us
at
+1 (800) 559-5729
and we'll
walk you through
how to fill out the application form.
Alfredo Ruiz
English and Spanish languages